Women Tennis Skirts Pleated Athletic Golf Skorts with Bulit-in Shorts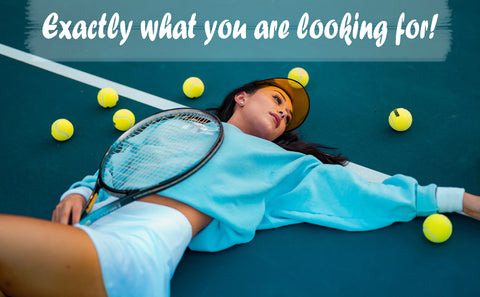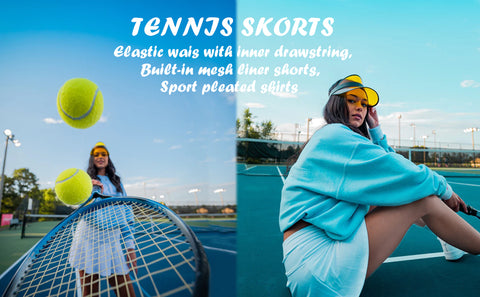 Women Tennis Skirts Pleated Athletic Golf Skorts with Built-in Shorts Yoga Fitness
Skirt Outer: 92% polyester, 8% spandex. Inner Shorts: 92% polyester, 8% spandex.
Wide Waistband: Workout skirt with a wide elastic waist for a snug tightness fit on your lower belly, keep you feel comfortable, and not sliding down while running.
Performance Design: This sports skort is made of lightweight, breathable, moisture-wicking, and quick-dry fabric, ensure you stay dry and comfortable during high impact activities. closure
Secure & Comfy: The tennis skirt built-in mesh shorts allow you to move without worries. Double-layer design avoids riding up and pinching, enhances your range of motion, always keeps comfy moving and staying up during a long workout.
Pleated Skort: Women's skorts with flowy pleated hem help raise your hip visually, makes legs more straight and long, deliver a slimming look.
Hidden Pockets: The tennis skirt has a hidden pocket on the waistband, it can hold your keys, credit cards and other small items. Inner shorts with 2 pockets are convenient to store golf, tennis balls without hindering movement or worrying it'll fall out.
Any Occasion: Active skirt is a perfect choice for tennis, badminton, table tennis, dance, gym exercise, running, fitness, hiking, workout, cheerleader, golf and any activities.
Take Attention: Before placing your order, please refer to the size chart on the last picture or in the Product Description. And feel free to let us know if there are any problems before or after purchasing.
REVIEWS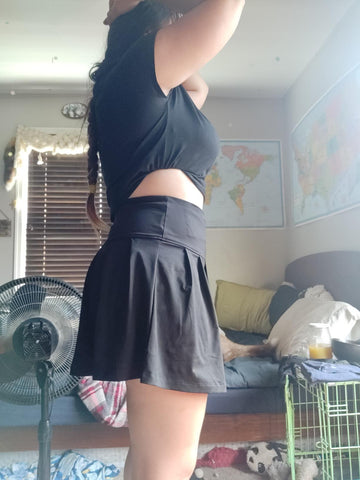 ★★★★★Great little skort
Reviewed on June 29, 2020
I love these skirts! They fit my personal self-image so well, I feel comfortable, free and cute wearing these! And when hanging around guys (which I do a lot) I can worry less about randomly flashing the world! Now let's talk about the facts outside of my happiness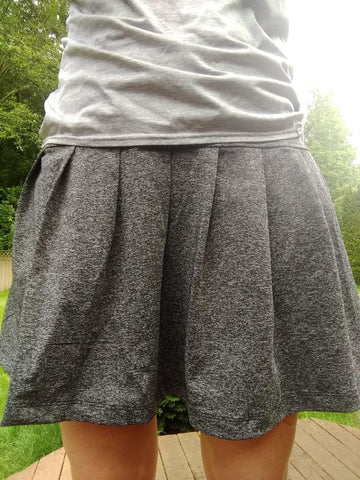 ★★★★★plus size friendly!
Reviewed on August 25, 2020
👏 this 👏 skirt 👏 is 👏 perfect 👏 it has the pockets on the side, which are small, but the fact that it has pockets, in general, is 👌 it actually fits me around, it's a good length, and it's sooo comfy. lots of stretches, but also don't try and fall off me. I absolutely don't play tennis, this is just daily worn.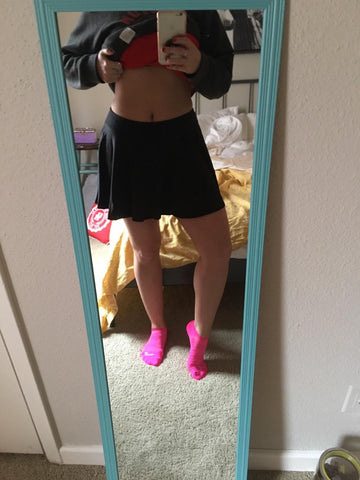 ★★★★★Perfect for athletic build/big booty!
Reviewed on August 6, 2020
Great skirt for those with a booty!! I oftentimes have trouble finding skirts that fit correctly, but this one is awesome. Will be wearing it for a lacrosse game. I am 5'7", 167lbs, and bought a Large. The waistband was a little snug but it adjusted (little stretching/ripping of the seam) without any damage to the item. I like a snug waistband anyway. This was a great item for the price!
waiting for your feedback...