【50% OFF】Solar-Powered Bird Fountain Kit - No Setup!
Instantly Make Your Backyard A Relaxing Oasis!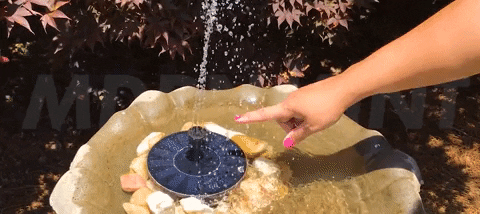 Give your backyard a touch of nature with the Solar-Powered Bird Fountain Kit, instantly turning any body of water into a relaxing birdbath, it requires no wiring and is powered completely off the sun! Great for attracting birds, it makes a great feature in any pool, backyard, fish tank, pond or existing birdbath.

Main Features

Eco-friendly Solar Fountain Pump
Runs Without Wires: j

ust floating it on the water, it will run automatically once the solar panel reaches enough sunlight.

1 Second Installation: s

imply cleaning, easily move to different locations

Save Time & Money On Traditional Fountain Setup
Includes 4 Easily Changeable Fountain Heads

MULTI-APPLICATION: this solar fountain pump has 8 kinds of spraying style.Perfect for outdoor birdbath, fish tank, small pond, garden decoration, water circulation for oxygen. 
4 x Fountain Heads Included!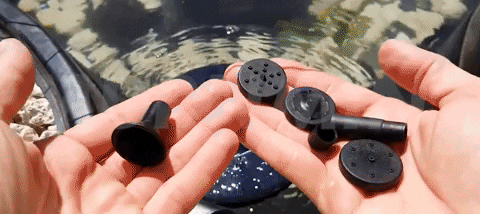 Setup couldn't be easier, upon delivery just let it absorb some sun and set it in whatever body of water you desire. Performance is dependent on sunlight, although it does work in the shade or on a cloudy day, the strength of the fountain is optimal on a sunny day and in water with a depth that can keep the fountain submerged.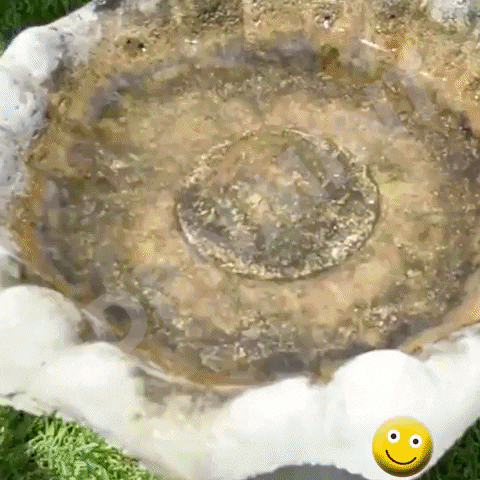 Note: Change the water occasionally to prevent dirt and clogging in your fountain!

Product Information
Diameter: 5.1 x 5.1 Inch
Height: 0.7 Inch
Color: Black
Weight: 260 Grams

Package Contents

1 x Solar-Powered Bird Fountain
4 x Fountain Heads
REVIEWS
⭐️⭐️⭐️⭐️⭐️
By

 
S. Lewis

 
on Jul 03, 2020
Just got this today for our birdbath and it works beautifully. The fountain was shooting too high for the diameter of our birdbath (the breeze was blowing the water over the side before it landed back in the bowl), so I used a small nail to enlarge the holes in one of the wider nozzle caps which were included. The bigger holes keep the fountain spray at about a 4 - 5 inch height in full sun rather than 12-14 inches as it was the original cap
⭐️⭐️⭐️⭐️⭐️
By

 
S. Wright

 
on Sep 10, 2020
Not only adorable, but anyone can have their own birdbath buy just placing this in your bowl, pot whatever. I unboxed this in the shade as to not wear out the motor since it turns on in the sun. Walked over and put it in our shallow Talavera birdbath. Not rocks to hold it down. Simply place and walk away. No, it does not work in the shade or during cloud cover, only direct sunshine. We live in the desert so no problem. Perfectly packed, quickly shipped and excellent instructions. Just buy it already!
⭐️⭐️⭐️⭐️⭐️
By H. Spaeth on Mar 13, 2020
This Solar Birdbath Fountain is very well constructed and I can tell that it will last for many years to come. I'm sitting here in my study; approximately 10 feet away from the birdbath, and the sound of the water cascading gently back to the surface of the bird bath's surface is absolutely soothing.